Ghita Modern Green Velvet Couch 87" with White Pillow
Description
A modern channel sofa take on a traditional Chesterfield, the sofa is a statement - making piece of beautiful design. Rich velvet is chanelled on both the inside and outside of the frame, a beautiful design detail that can be seen from any angle in a room. Single "bench" cushions allow for comfortable multi person seating without cushion separations.
Fabric and Design
• Premium quality velvet upholstery • Clean lines and softness create a look that fits a traditional or contemporary interior decor
Features
· Luxurious plush multi density foam cushions to relax in comfort and style
· Rich hued chanel with clean lines
· Built to last with premium fabrics, materials, and expert craftsmanship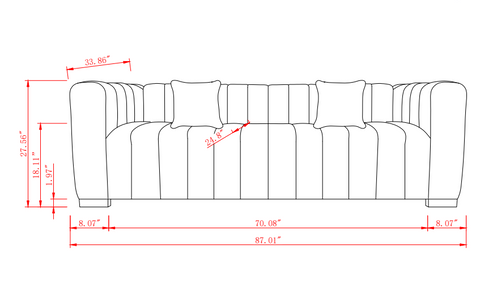 Reviews
delivered to you within 5 days
This product will be delivered to you within 5 days, and there is no need for you to do any assembly. It's very beautiful, trendy, and very firm. I'm very happy with my purchase.
so beautiful
I love the sofa because it is so beautiful and the fabric is of great quality.
love
I am in love with my new sofa! The velvet is absolutely beautiful.
happy with it.
I was a little surprised by how small the sofa was, but I'm still happy with it.
Ghita Modern Green Velvet Couch 87" with White Pillow
$1,399.00