This is the must-read sectional sofa buying guide article to check out. We set out the 39 different types of sectional sofas so you get an idea about your options and what to buy. Yes, there are many sectional sofa styles, options, and upholstery. We simplify it for you.
A. Sectional Shapes
The 3 main shapes are U-shape, L-shape, and semi-circular shape. Below are samples of different shapes and configurations.
1. Curved
Curved sectional sofas are a great way to maximize sitting space in your living room without someone getting stuck in the uncomfortable corner seat. All people will be able to talk easily when they are on a curved sectional sofa and nobody will have to worry about getting left out of the group conversation.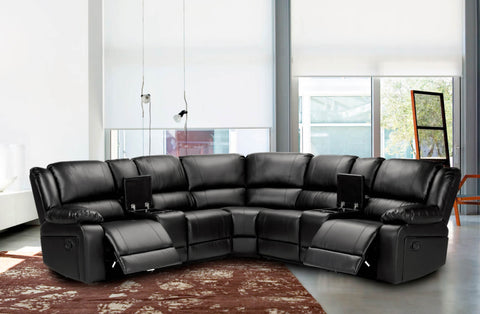 2. L-Shaped
These sectional sofas are perfect for people who have smaller living room spaces and want to optimize their seating choices without worrying about cluttering the room or breaking up the space that they have. Because these sofas usually come standard with a chaise as a part of the piece, it's easy for everyone in your home to relax, no matter if they'd rather sit or recline.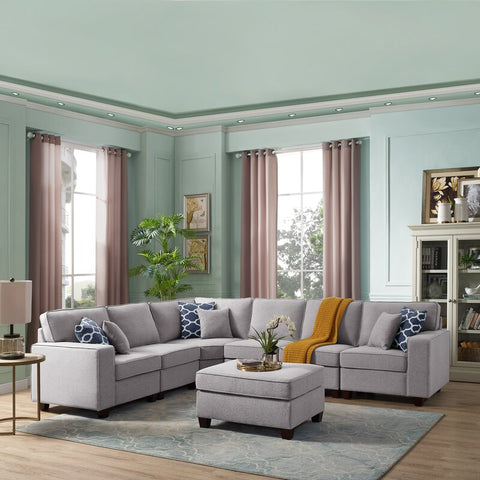 3. U-Shaped
Not as rounded as a curved sectional sofa, the U-shape sectional sofa gives even more space than the L-shaped for people who wish to recline on their sofa. This is a great choice for the family who has a fairly large living room as they tend to be a bit bulkier than their counterparts.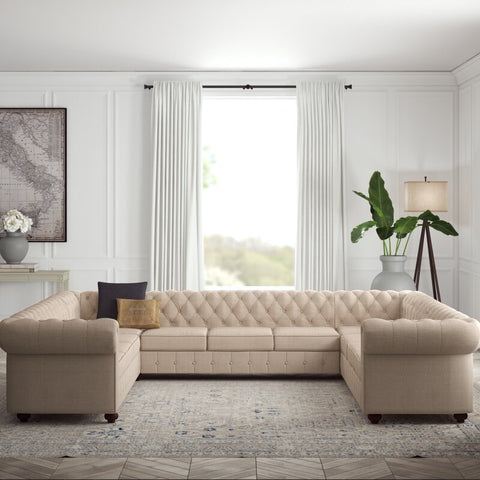 B. Styles
When it comes to choosing a sectional style for your room, you should have a clear interior design plan for your room with respect to color and theme. This way you will buy a style of sofa that best fits your room.
1. Traditional
These sectional sofas are going to be a little more traditional than some updated versions. They typically have daintier legs and fine, curved lines that make the piece seem lighter and smaller than some of their heavier counterparts.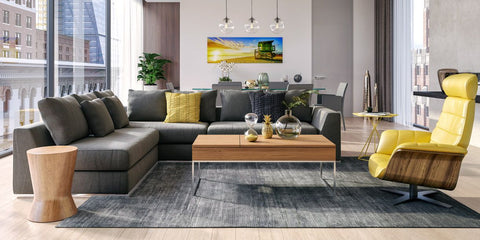 2. Modern/Contemporary
Sleek and modern, these sectional sofas will often have updated touches added to them, such as metal legs and leather. They tend to be boxier than traditional sofas but if your home is decorated with a more modern style overall, then they will fit right in and improve the décor that you have.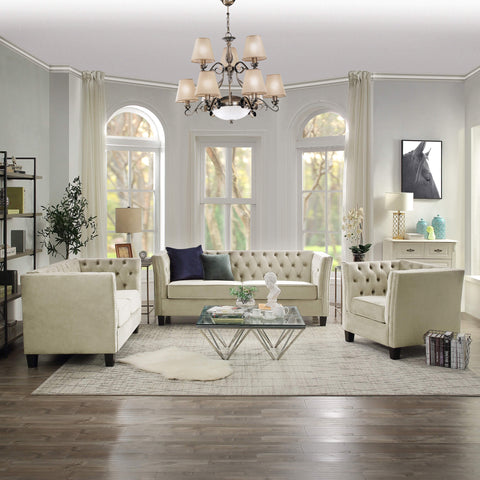 3. Transitional
An updated twist on an old classic combines the best of modern and traditional furniture with a focus on the sophistication of the design of the sofa and less on the ornamentation. The size is large enough for a person to be comfortable and will stand up to even the most active household.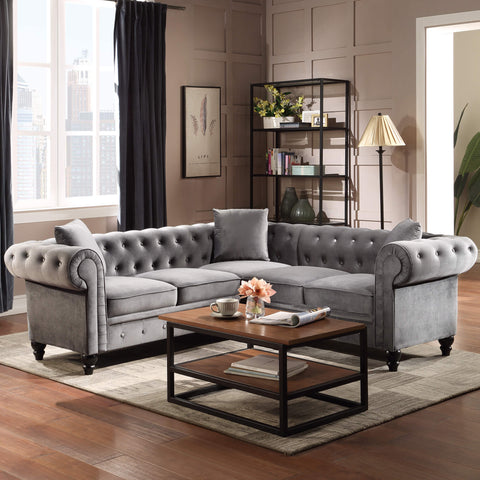 4. Farmhouse
Light colors, durable fabric, and comfortable cushions are all typical of this style sofa. They are built to last, will look great in almost any room, and evoke feelings of a slower time in the past. They're simple to spruce up with fun throw pillows in bright colors and are easy to care for without a lot of fuss.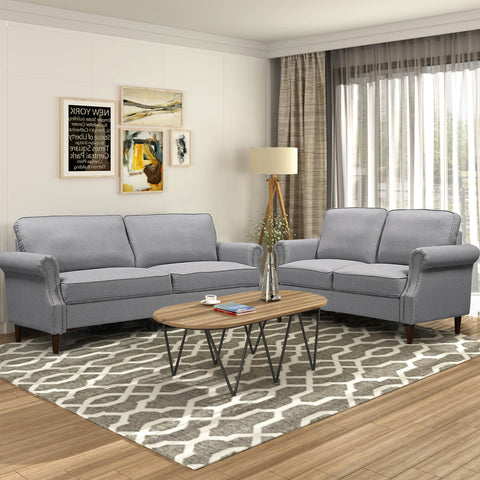 5. Mid-Century
With the thin legs, clean lines, and tufting, mid-century furniture adds a lightness and airiness to any room of your home. These sectional sofas still have plenty of room for you to sit but have a lot less visual weight than some of the other sofas available.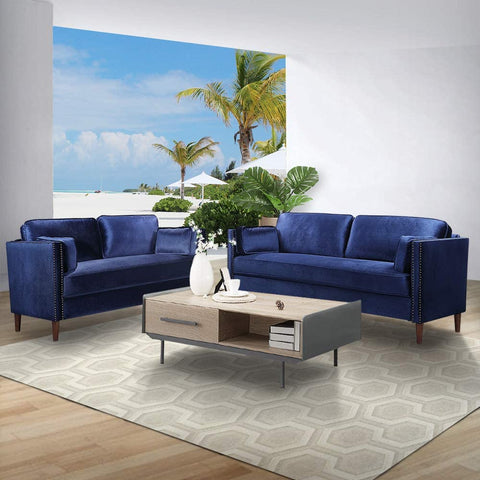 C. Design
1. Stationary
Stationary sectionals are the most common. They are designed for one shape (instead of mix and match like modular sectionals). The better sectionals lock or connect the pieces together so they stay in place.
With simple lines and a sturdy place for you to sit, these sectional sofas are comfortable and reliable. While you can't recline in them, you are sure to enjoy a nice rest at any time of the day. The pillows are often attached, making them easy to take care of as you don't have to worry about positioning the pillows or them slipping off of the sofa while you are resting.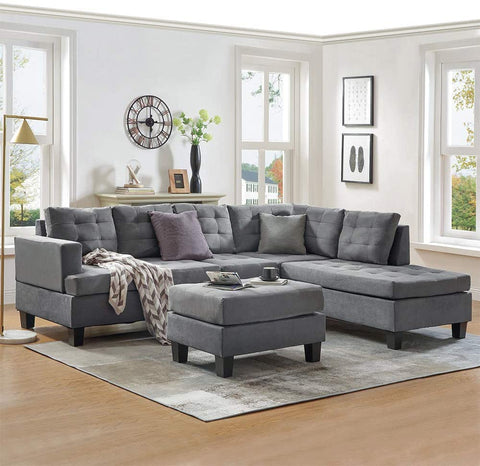 2. Reclining
Reclining designs are ideal for family rooms and media rooms. They come in a variety of styles – from individual movie chairs (below right) to a more traditional sofa with individual reclining sections (bottom left).
Perfect for reading, watching a movie, or working on homework, a reclining sectional sofa makes it very easy to get comfortable. They do tend to be a bit bigger than their stationary counterparts and require more space so that you can stretch out and get comfortable. If you like to sleep sitting up or need to relax at the end of a long day, then this is the right sofa for you.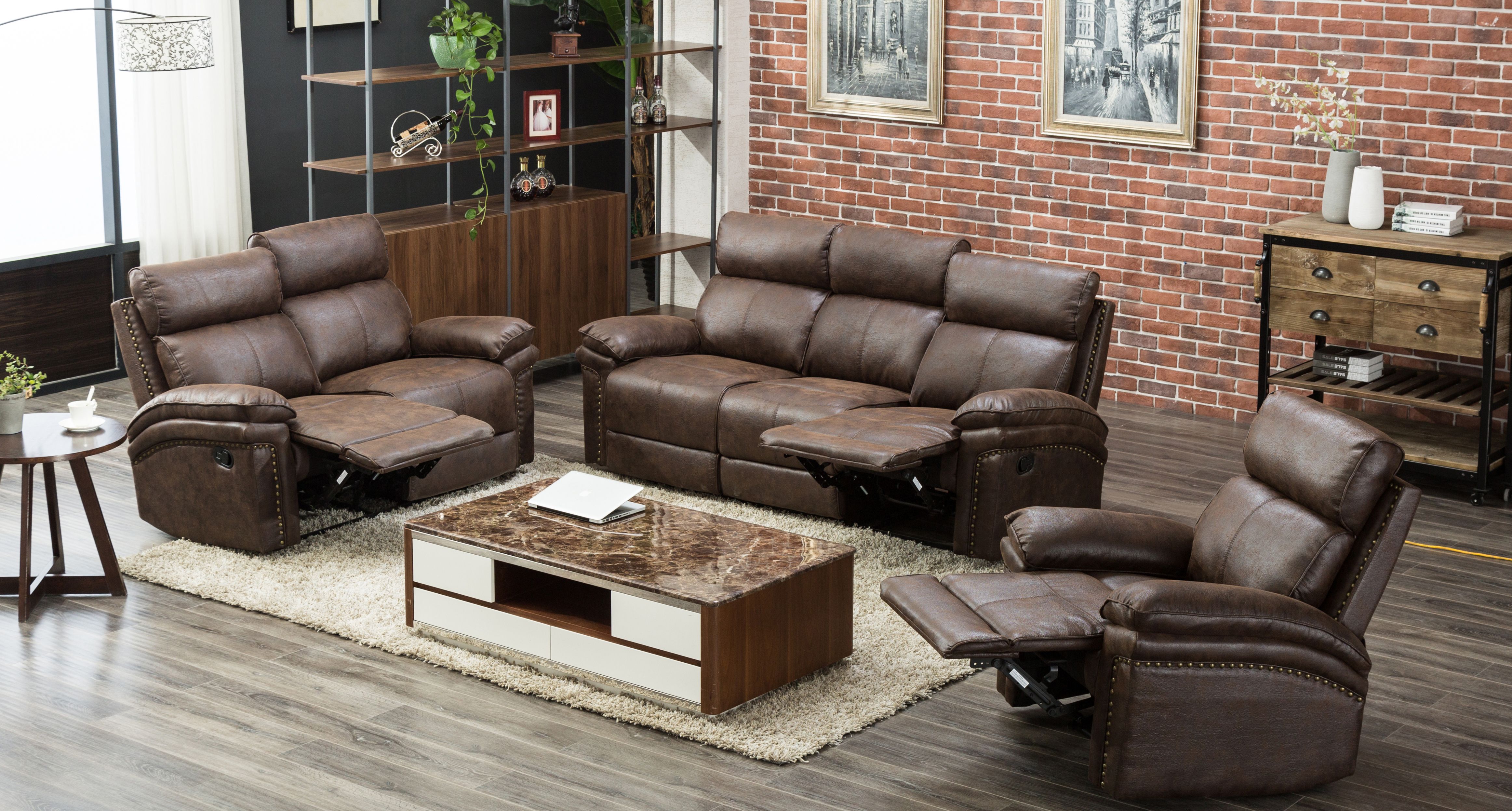 3. Modular
Modular sectionals come in 3 and 5 pieces typically. The sofa is made up of individual pieces. Some sectionals even have pieces that work well as stand-alone furniture. The sky is the limit with the styles and configurations – but I'll set out several modular sectionals below to give you an idea of some options.
Perfect for the more contemporary home, these sectional sofas can be rearranged and moved around your space to suit your needs. Whether you choose to push them all together and make one long sofa or prefer to have them spaced throughout your room, it doesn't matter. The pieces are light enough for you to move easily but solid enough that you are safe and comfortable while using them.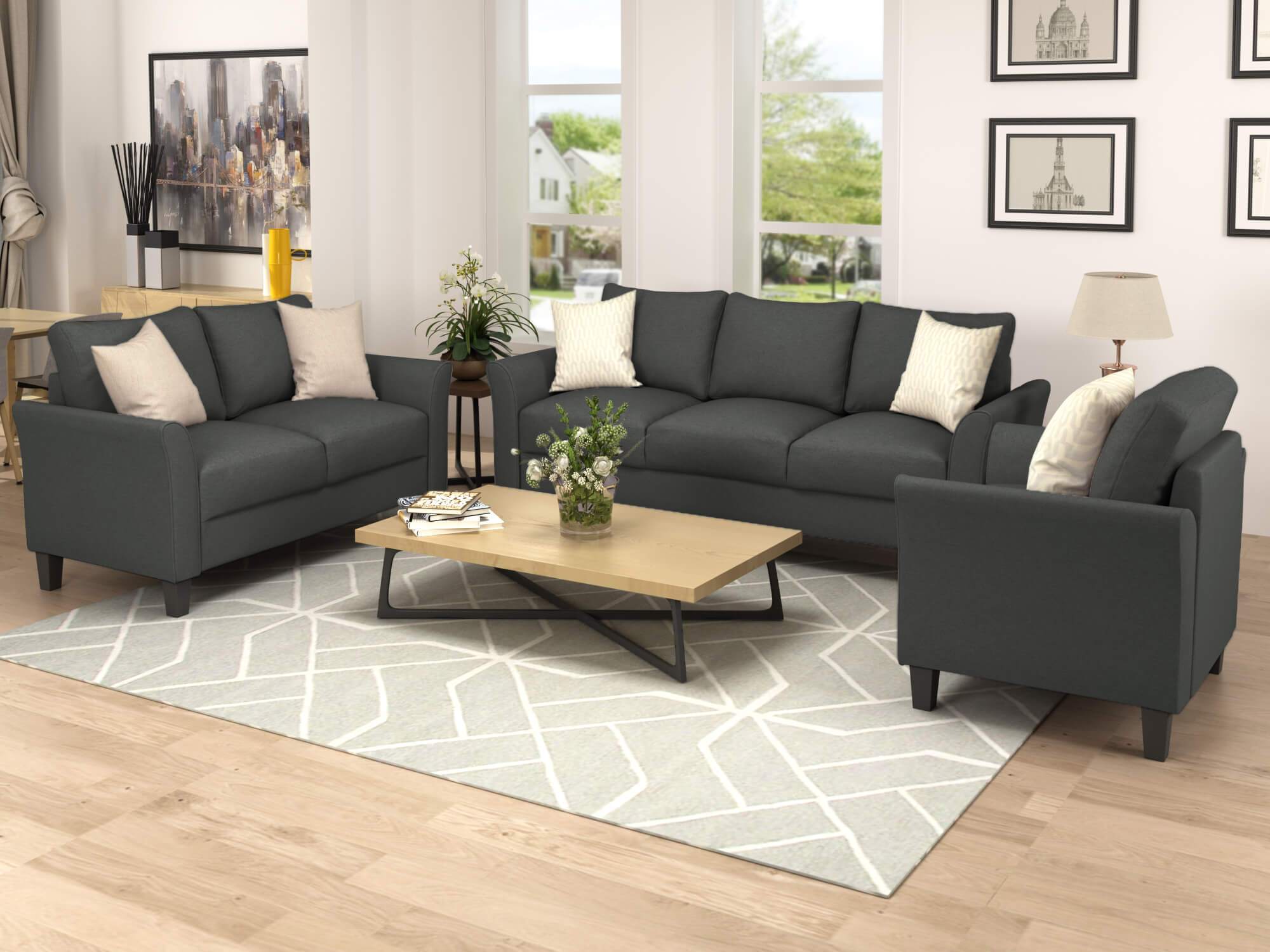 4. Sleeper
Many homes don't have a spare bedroom for guests to sleep in when they are visiting but with a sleeper sofa, you do not need to worry about having an additional bed. These sofas are generally a lot heavier than other kinds since they have a bed hidden away inside of them; however, once you have them in position in your room, you won't have to worry about extra seating or a place to sleep.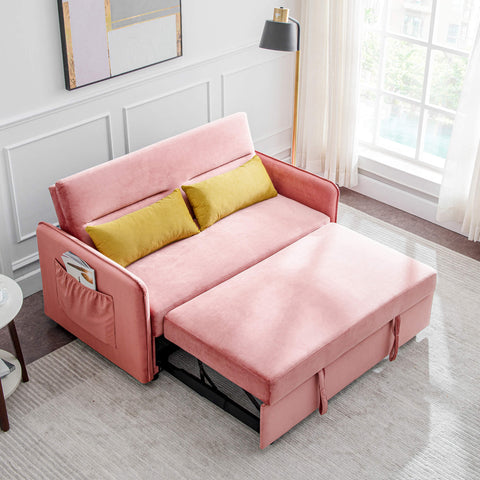 5. Convertible
You can easily pull this sofa apart into different pieces and even store items inside the hidden compartments. They come in a number of styles so you can find one that best fits your décor and aesthetics and are a great way to store items in plain sight in your home. These sofas are perfect for both the larger and the smaller home as you can scatter the pieces to fit in your specific space or bring them together to form a more cohesive unit if you are in need of a large grounding piece to really bring the room together.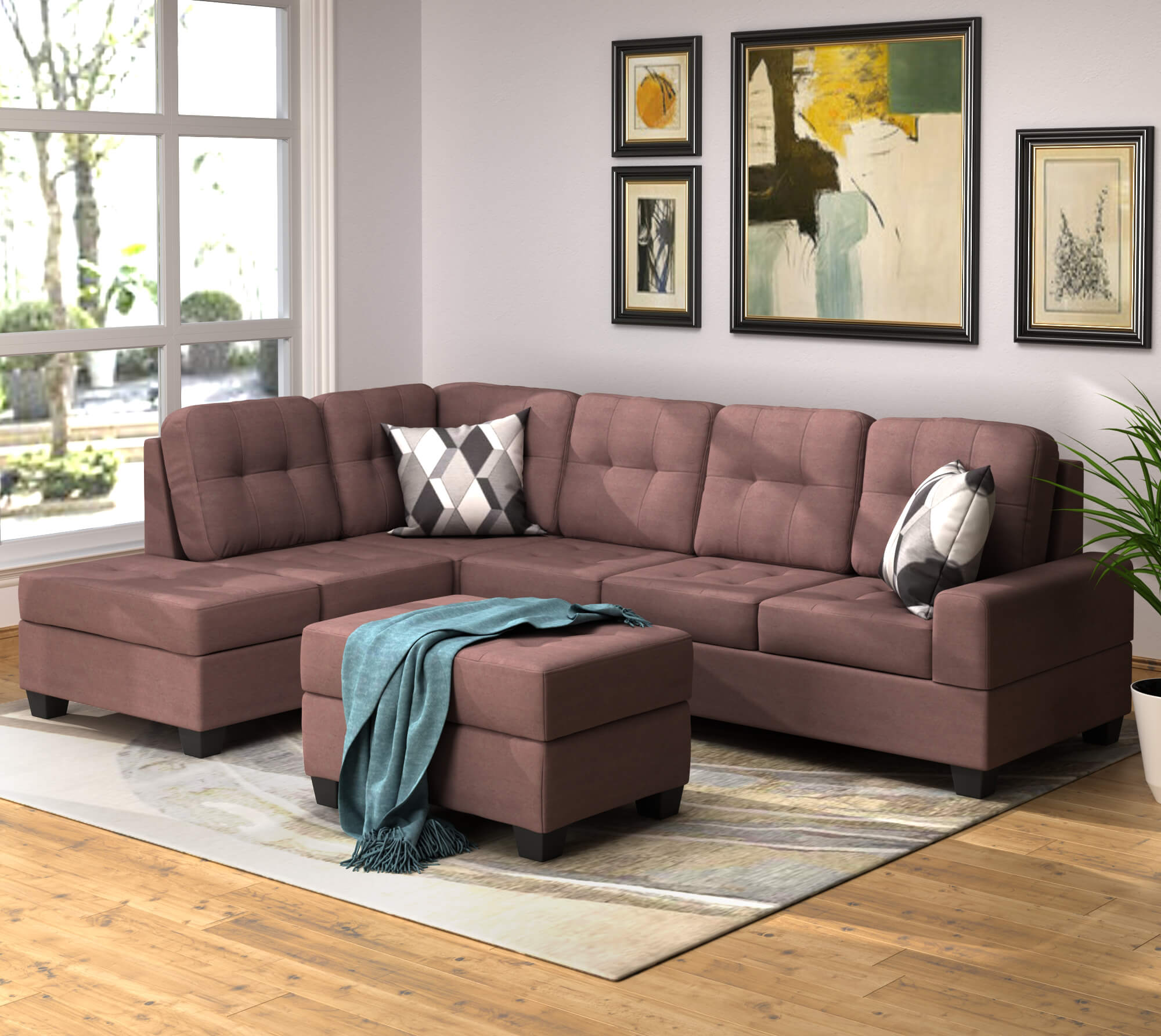 6. Sofa/Chaise Sectionals
The chaise lounge is incredibly popular as well. Basically, it's like having an attached ottoman… but the plus side is you can still use an ottoman so everyone on the sofa can put their feet up.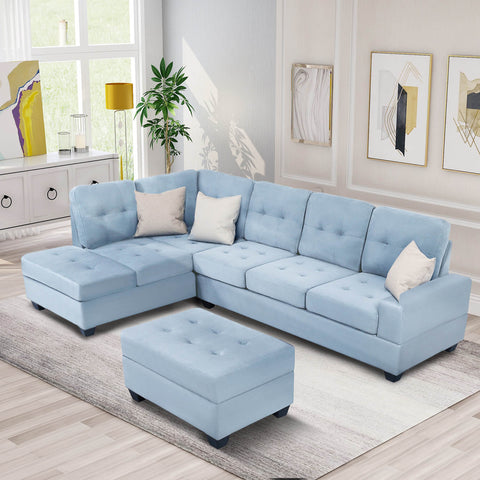 D. Material/Upholstery
The material of your sofa impacts duration, comfort, and appearance. The best thing you can do is sit in all types of materials so you get a sense of what you like… while keeping your room's design and your budget in mind.
1. Faux Leather
You can enjoy the look and feel of leather at a fraction of the price when you opt for faux leather. While not as soft to the touch as real leather, you won't have to worry about having your furniture professionally cleaned if there is a spill on your cushions. This also won't age and patina as beautifully as real leather will but because of its lower price tag, many homeowners still opt for it as a great-looking and durable choice.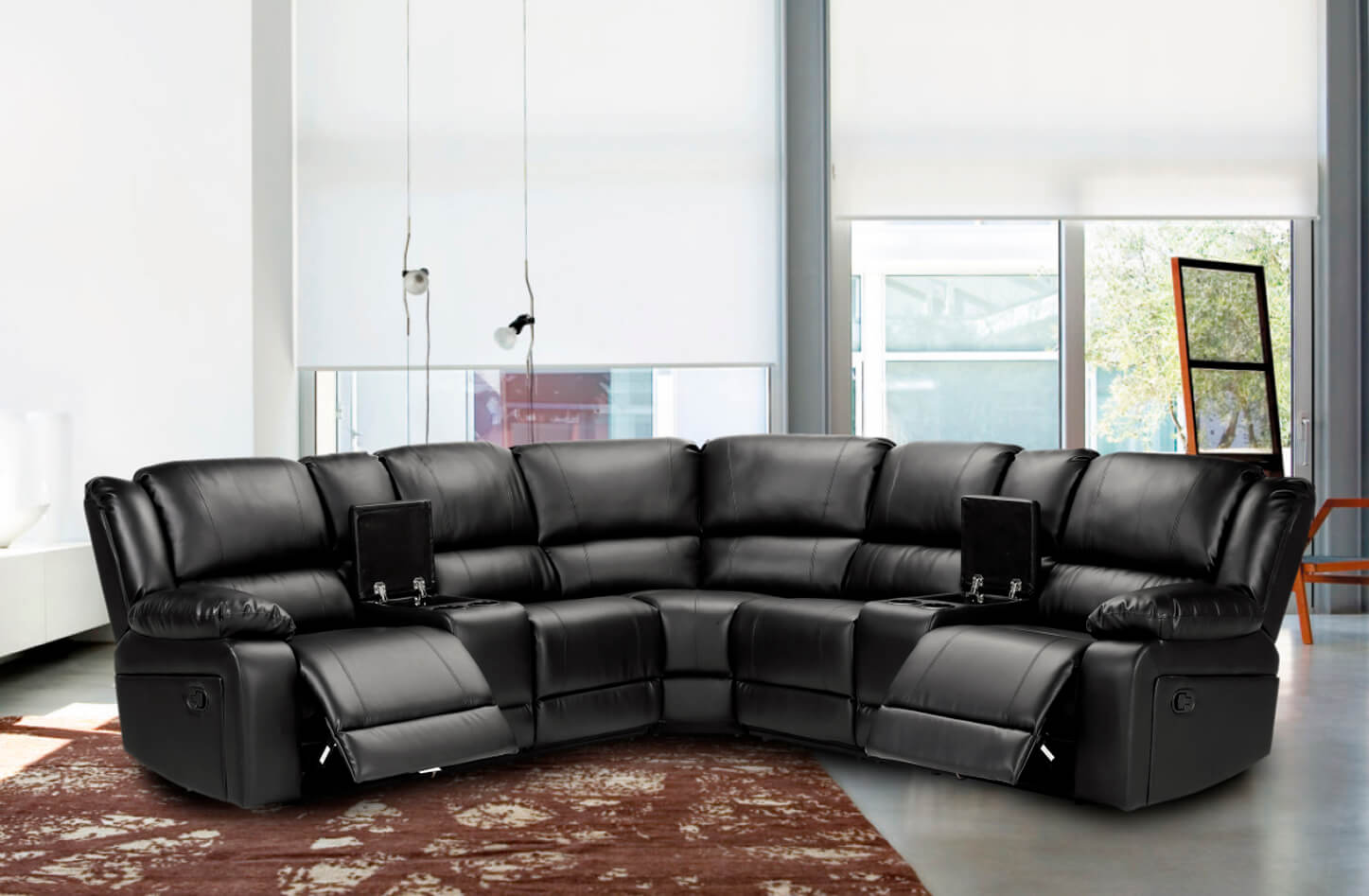 2. Velvet
While a sofa covered in velvet may wear out faster than one with a different kind of fabric, it is hard to beat the comfort and soft texture that you get with velvet. When you buy a velvet sofa, it will be soft to touch and comfortable to sit on but you may need to use a steam cleaner to clean it if you get it dirty or have a stubborn stain. Velvet sofas will really make a statement in any room and aren't terribly common but are beautiful and can add a touch of class to any home when you decorate with them.
3. Twill
Due to the style and make of the fabric, twill hides stains very well, which makes it the right fit for busy families. In addition, it resists wrinkles and can easily be treated to clean it and to iron out any wrinkles that do occur. This type of fabric is also very water-resistant and can easily be cleaned before a stain occurs if a drink is spilled.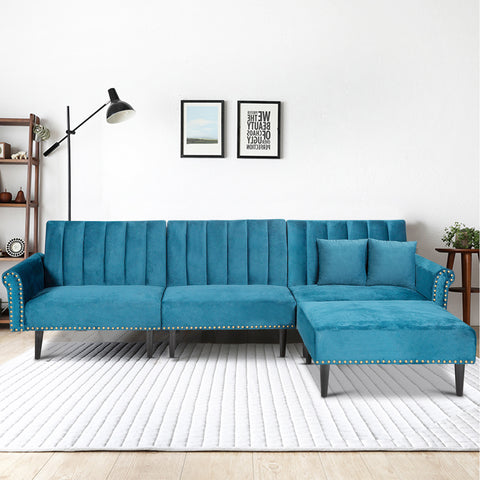 4. Plaid
The plaid that you can commonly buy on a sectional sofa is not going to be bright and garish. It's going to be much more refined and subtle. While the pattern won't stand out from across the room, it will be something that will add some visual interest to your sofa and keep it from being a solid color. In addition, plaid will distract anyone looking at your sofa from seeing any spills or stains that your sofa has collected over the years, making it a great choice for a home with pets or kids.