Explore the different types of patio chairs and find the most ideal one for your patio so you can sit on your throne outdoors and relax while sipping a wine or simply enjoy the poolside view.
1.Patio Dining Chairs
Patio dining chairs are generally meant to be used around a patio table. These are the types of chairs that people use for dinner parties. They are very nice, and you should be able to fit many of them around a table setting. These chairs can often be bought in large sets and sometimes may even come with a patio table included.
If you want everything to look as nice as possible, then it is recommended to purchase a set. This will ensure that all of your patio chairs and the table itself are going to match. Ensuring that the aesthetic appeal of your patio is as high as possible is good. People care about the look of the patio just as much as they care about comfort.
The set being shown here will do a good job of providing you with a comfortable place to eat on your patio. It is a durable set that will stand up to use, and it looks really nice overall. This is a bistro-inspired set that would not look out of place in a patio cafe outside of Paris. It can provide your patio area with the charm that you have been looking for and is worth taking a look at if you're in need of a full patio dining set.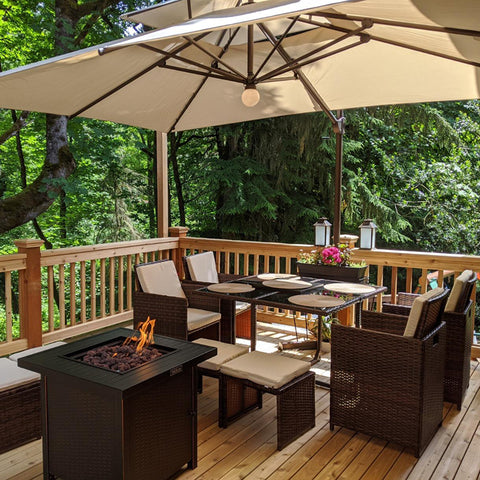 2.Wicker Patio Chairs
Wicker is a material that is really appealing to many people. It has a unique look to it that really draws the attention of the eye. There are all sorts of wicker patio sets available for you to consider. If you want to go with a theme for your patio, then thinking about going with wicker is a good idea.
Some people worry about whether wicker chairs are going to be able to stand the test of time. It is true that some wicker furniture is more delicate than others. If you make sure that you are buying a sturdy set of wicker furniture, then you shouldn't have to worry. It can actually be made to be quite strong, so you shouldn't have to feel concerned about it breaking down on you.
This set of wicker chairs here is going to be very appealing to those who want something that stands out. The chairs have a rounded frame, and they come in many different colors. You'll be able to go with the traditional white wicker option, or you can choose something a bit different, such as turquoise. Whatever option you decide to go with will be convenient, as these chairs are lightweight and easy to use. They will still be sturdy enough to allow you to use them on your patio without fretting, and moving them around will always be a breeze.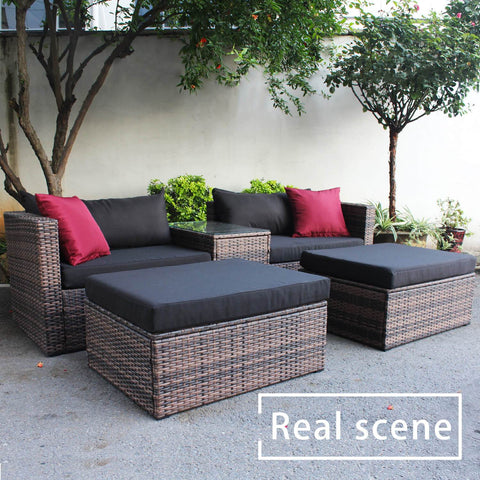 3. Metal Patio Chairs
There are many people who make the decision to go with metal patio chairs, too. Chairs made out of metal are great when you want to make sure that they will last for a long time. If you buy a durable and rugged metal patio chairs, you should be able to count on them for many years. This option is going to be similar to the wooden chairs mentioned above in that there are many different styles to pick from.
You'll find metal lounge chairs, dining chairs, and everything in-between. Metal chairs are usually fairly reasonably priced, too. There are some more expensive options that are very ornate, but you'll be able to find affordable metal patio chairs as long as you take the time to look. They will look really nice and can stand up to regular use without having any problems.
The patio dining chair that is being shown here is a perfect example of a simple and durable patio chair. You can get chairs like this without having to pay too much money, and they will be reliable. The chairs may lack the visual flair of some of the more ornate options, but they certainly are charming in their own right. This is a great option when you are on a budget and need some patio chairs that you can count on.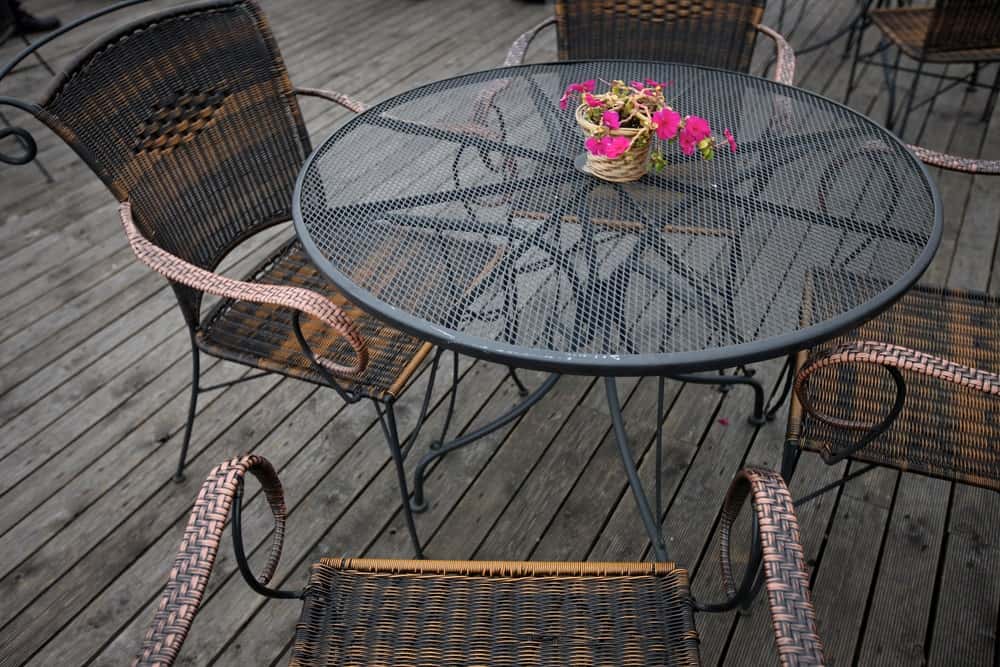 4.Wooden Patio Chairs
Wooden patio chairs are definitely going to come across as a classier option when compared to the plastic ones mentioned above. You will have to pay a little bit more money to get some nice wooden patio chairs, but the overall durability and style of the chairs may well be worth it. There are several styles of patio chairs that are made out of wood, so you might want to get several different types of wooden chairs for your patio.
You'll also find a mix of light-colored wood patio chairs and dark-colored ones. The chairs that are being shown here are light-colored. They have been made out of solid acacia wood and definitely stand out from a visual perspective. This set comes with four different pieces of furniture for your patio.
If you are in need of an entire patio set, then buying something like this is highly recommended. You will be getting two chairs, one patio sofa, and a coffee table in this set. This will allow your patio area to feel truly complete, and you'll be ready to host a party. There are plenty of other beautiful wooden patio chair options on the market, too, so peruse the available chairs, and purchase what appeals to you the most.